The Sydney Pistol Club Ltd was established in 1953, the first in NSW and arguably the 3rd pistol club formed in Australia.
Our first shooting range was in a disused rail tunnel near Wynyard Station in the Sydney CBD. There was then a brief occupancy of a section of the Malabar Rifle Range where the allocated area was washed away several times.In 1959, after erection of range buildings, the Club moved to its present site at Cape Ba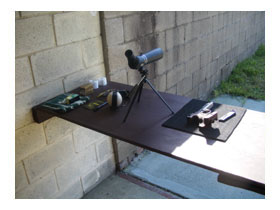 nks La Perouse.
In the intervening fifty years our range at La Perouse has been used for State and National Championships, selection competitions for Olympic, Commonwealth and other International or National events
Past and present members are and have been part of successful Australian shooting teams. Women in particular have achieved high success at Olympic level. It is a sport for all ages and gender.
The Club has always been a key training venue not only for Target Pistol Shooters but has also previously provided its facilities to both State and Federal Police Forces.